Do you want to avoid using WRONG Japanese Symbols?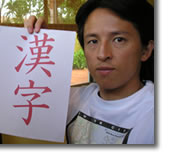 Dear Friend,
Hi, my name is Takanori Tomita. I am a Japanese Translator, but specializing in translating and designing Japanese symbols.
As I have been working as a Japanese Symbol Translator, I have realized that some people want to see a variety of kanji symbol design that are 100% Accurate and decided which one to use for their Tattoo design.
But, the true fact is that many Westerners use WRONG Japanese symbols which they don't understand.
Even in Japan, I see some Westerns who have inappropriate Japanese Kanji Symbols on their body, arm or legs as a tattoo design.
How can you avoid using WRONG Japanese Symbols?
As there are many Westerns who use WRONG Japanese symbols. Our Translator team and I have created the Kanji Dictionary which contains a beautiful Japanese Kanji symbol design like the following:
In this book, there are 100 different kanji characters designed with a variety of Japanese Calligraphy fonts and Stencil Outlines.
Some are unique, artistic and beautiful like the following.