Who Else Want to Choose from 100 Different Japanese Kanji Symbols for Your Tattoo Design?
If You Answered "I Do!" then Please keep reading and try my Japanese Kanji Dictionary - Volume 2 Further Down the Page...
<< NEW: Japanese Kanji Dictionary - Volume 2 >>
| | |
| --- | --- |
| | |
First of all, if you are not sure about what the kanji is, you can learn from my FREE REPORT.
By the way, if you don't know the difference, you should Click here to get a Free Special Report
Over 1,000 people in many countries have asked us to translate a word or name in Japanese symbols, because they don't want to get WRONG Japanese symbols. So, if you don't know the difference of the scripts, simply Click here and I'll send you a free report we've made that tells you the basics of Japanese scripts.
Do you want to avoid using WRONG Japanese Symbols?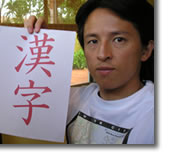 Dear Friend,
Hi, my name is Takanori Tomita. I am a Japanese Translator, but specializing in translating and designing Japanese symbols.
As I have been working as a Japanese Symbol Translator, I have realized that some people want to see a variety of kanji symbol design that are 100% Accurate and decided which one to use for their Tattoo design.
But, the true fact is that many Westerners use WRONG Japanese symbols which they don't understand.
Even in Japan, I see some Westerns who have inappropriate Japanese Kanji Symbols on their body, arm or legs as a tattoo design.
How can you avoid using WRONG Japanese Symbols?
As there are many Westerns who use WRONG Japanese symbols. Our Translator team and I have created the Kanji Dictionary which contains a beautiful Japanese Kanji symbol design like the following:
In this book, there are 100 different kanji characters designed with a variety of Japanese Calligraphy fonts and Stencil Outlines.
Some are unique, artistic and beautiful like the following.

Click Here To Order Now - US$100




In this NEW Kanji Dictionary - Volume 2, there are 100 KANJI Symbol Design , that are Unique, Beautiful and Aesthetic. This book is particularly for those who are thinking about using Kanji Symbol for design need. Each Kanji Design is written with both the Japanese Calligraphy and Stencil Outline.

<< Kanji Dictionary - Volume 2>>

You're about to find the most popular 100 kanji characters design that are unique, beautiful and aesthetic.

Choose from a variety of kanji symbol that are designed with both the Japanese Calligraphy and Stencil Outline
- KANJI DICTIONARY - VOLUME 2
- 100 Kanji Characters
---
FAQ - Frequently Asked Questions.
What is the book format?


The book format is PDF file and you need the Adobe Reader to open the book. If you don't have the software, you can download it from the following site for FREE.


If you don't know how to do it, please contact us info@dsfy.com

What are the payment method?


We do accept the following Credit Card Payment through the Clickbank payment which allows the following credit cards:


If you are worry about the security for the online payment, you can see our Security guide.

How long would it take to receive the ebook?


Once you pay, you can download the ebook immediately.

If I am not satisfied with the ebook, can I return it?

You are able to request a refund within 8 weeks/60 days if you are not satisfied for any reason

No hassles and No questions asked!
---


Here is some of Kanji design used for our customers.
And, you can also see our customer's comments we receive almost everyday.
Dear Takanori,
I did receive the letter with the diskette and thank you very much.
The book is put together very well and is quite informative.
I think that it's very nice of you to follow up with customers and provide new
material and additional resources. As I mentioned in one of my earlier emails, your service is very professional and worthwhile to anyone investigating Japanese symbols for art, tattoos, or just general interest. Some time ago I purchased an English / Japanese dictionary but it was very difficult to figure out the appropriate meaning of the symbols.
You should be more aggressive with advertising your service.
Take care, keep in touch.
Best regards,
John

Hello,
My name is John Vas and I just received the Artwork
that i purchased on line from your company.
Let me say that I couldn't be more pleased and am in eager anticipation to use these as my tattoo. I will be sure to send you a digital photo once the work is completed. I was checking on line for symbols when I came across your sit on Yahoo. Once I read about it,
and did some research I was convinced that your service was the right choice for me. Once my tattoo is competed I will be sure to send pictures and a
testimonial.
Thank you for your terrific work!
John Vas

Thank you for sending me them so quickly. I am planning on using them for a
tattoo. I will tell my friends about your web site because you have been so
hospitable towards me. Thank You again.
Dale Berry


Here are the photo that my customers have sent to me.
You can see more of these from here - Picture of logo, jewelry and tattoo design.
I got it done yesterday. As promised, I am sending you a photo to post to your website.

Thank you again so much. I couldn't have done it without you!!
Takanori Tomita,

Please find attached, a digital photo of the tattoo just after it was completed.

Regards,

Dave
Takanori,

Finally getting around to sending you the end results of your work.
I got 2 tattoos at the same time. My first and second!!!. One my Left shoulder blade is "Integrity" which you translated for me.

Your service was awesome and totally professional.

A very happy customer,

Jeff Kohlman
| | |
| --- | --- |
| | Hi this is Sonia and I have received the dictionary. Thanks for everything and here is a picture of the tattoo serenity |
My 100% Bulletproof 60-Day
"No Questions Asked Guaranteed"

You are able to request a refund within 8 weeks/60 days if you are not satisfied for any reason

No hassles and No questions asked!
Click Here To Order Now - US$100