Here's photo of our customer's
Japanese kanji tattoo design.
Take a look!
Thanks to our customers who have placed an order and send us back the photos they have taken, and gave me a permission to share with other people.
The site shows you a list of photos which are sent by our customers and how those Customized Japanese symbols (Kanji, Hiragana and Katakana) are used.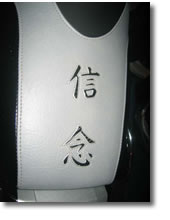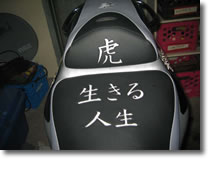 I just wanted to show you the final result of the great work that you sent me.
You guys are great you were fast, accurate and were always available to help.
These symbols represent a great deal to me, beacuse each are the foundations to what I live my life by.
Thank you for the beautiful work and here are some of the pitures from my custome designed motorcycle seat.
Andrew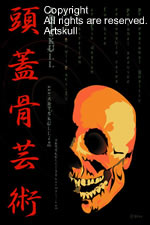 Takanori -
I really appreciate your taking the time to contact me regarding your work.
At the moment I'm not getting a tattoo but plan on using your translation to help promote my freelance illustration & graphic design business.
I've attached a possible promo postcard design using your work. If you have the time to send me your comments on this design I'd appreciateit. And, I will definitely send you a hi-res image and hard copy once thispromo card is complete.I'm also in the process of updating my site and will be sure add your link
Thanks again and looking forward to reading your comments on the promo card...
Chris
ArtSkull... LowBrow Retro-Fried Horror, Cult & Sci-Fi Graphix. Kustom Work Requests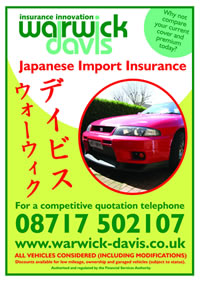 Hi Takanori
That is fine. I am happy for you to use the ad as an example. The ad has now been sent off to the magazine so it is too late to change the Japanese text to fit horizontally under the logo. I will remember for next time!
I'm sure the client will be very pleased to have some more publicity!
Many thanks for your contact.
Kind regards
Victoria Vaughan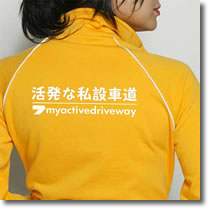 hi,the design was for our new company jackets.
thanks.
TETSU NEZUMI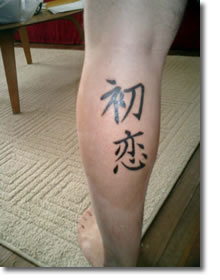 Dear Takanori,
Thank you so much for our accurate Kanji designs. Our tattoos look great thanks to you.
I have two friends who teach the Japanese language and they confirmed your 100% accuracy on these characters.
We thank you.
Paul and Kiamesha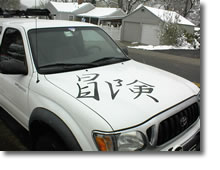 I did receive it, thanks. Thanks again for the design, I had a graphic artist here in Denver apply it to my truck.
Four pictures are attached.
Feel free to use them on your website and marketing materials, and I'll definitely recommend your services in the future!
-cds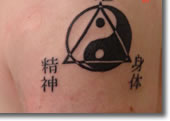 I really appreciate all the help you have given me.
If I know anyone else who needs Kanji Interpretations I will definitely recommend them to your business. I have attached the final design for the Tattoo I am getting.
I won't be able to get it done for a month or so, but I will send pictures of the tattoo (on me) when I get it. I am sure this is the correct way to say
Thank You Very Much so....
Darren Schaat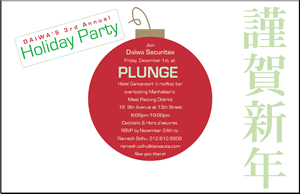 Hi Takanori
here's the invitation I designed with your Japanese symbols.
thanks
Jackie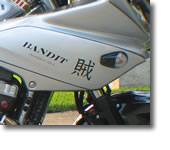 "I found Takanori Tomita's web-site when I was searching the Internet trying to find an English to Japanese Kanji symbol translation service. I was very happy with the level of service and quality of the JPEG symbols I received.Takanori delivered as promised.
I highly recommend Mr. Tomita's translation
service."
Thanks again, Takanori.
Sincerely,
Dave Heideman
St. Petersburg, FL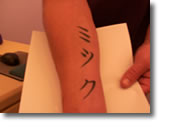 Hi ya
I have now had my tatoo done and attach some photos. I already had one tatoo done on my arm - and enclosed a photograph. If you do use these on your website, could you send me a link as I would interested to see them online.
Thanks once again for all your help and if I ever know of anyone that needs a good translator I will recommend you.
Kind regards,
Mick Barber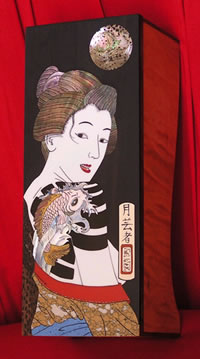 Takanori,
Here is an image of the inlay piece I did of the geisha.
I enjoy viewing the Japanese woodblock prints and plan on doing a few inlay pieces with many themes about geisha's and other subjects relating to the woodblock prints of the Edo period in the 1800's.
In my research I have found that in one image of a geisha by Yoshitoshi that there are many meanings to the position someone is sitting or the way the may have certain parts of their body exposed, like the neck or the number of colors used in a print, weather someones biting on something or mouth is open or closed, eyebrows shaved or teeth blackend with a green bottom lip.
I had no idea there was so much meaning behind all of these little things in an image.
I also ran across a little poem that mentioned that the same word or sound for koi ( a carp ) is also the same for love, or sweetheart.
So, I looked the word koi up and found so many references to love and passion and the use of it's many root forms, I was stunned. And the funny thing is I didn't know this until after I finished the inlay.
It has a koi coming off the shoulder of the geisha. How ironic is that, sort of gives it a romantic, nostalgia to the inlay if you understand the symbolism and the meaning to the words.
It has abalone shell, pink clam shell, black mother of pearl, silverlip mother of pearl, palmwood, ebony, micarta, old piano key ivory, tagua nut vegetable ivory, Indonesian rosewood, a variety of composite stone and corian as the inlay material. You can see the kanji on the lower right side.
Kerry Bourgeois
Orange, California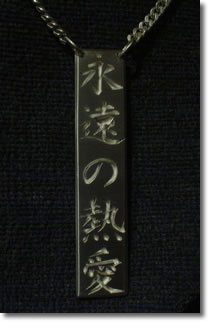 Dear Takanori,
Hans was very happy with the pendant which made me very happy too!
I had to make some adjustments, some caracters I had to change a little, ifI would have followed the lines as prescribed you would see large holes which is not a pretty sight.
I'd like your comment on that, please.
The whole pendant with chain is 54 grams in silver which is quiet heavy.
It looks very male and suits Hans well since he is tall.
Have a nice weekend,
With greetings, Ann.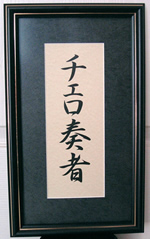 I had your calligraphy printed on a nice heavy linen paper and professionally framed as a gift for my wonderful cello maestro. The frame is 16 x 8 1/2 inches. The gift was well appreciated and fits beautifully with the Asian motif of his decor.
We were both much impressed by the simple grace and elegance of the writing.
The calligraphy now hangs in a place of honor in his home.
Thank you and good luck,
Lori
Mesa, Arizona USA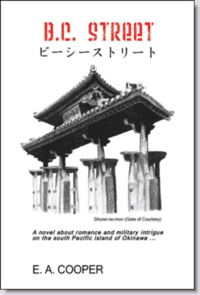 Dear Takanori-san,
I am grateful for the translation service which you provided. Your translation gave my book cover an authentic Asian look which provides increased market appeal.
On a personal note, I hope you will consider reading my novel. It's the first novel since The Tea House of the August Moon, written in the early 1950s, to deal with the topic of U.S. military occupation on Okinawa.
Unlike the farcical Tea House, B.C. Street treats Asians with respect and dignity.
Best regards,
Ed Cooper