100% Accurate English to Japanese Kanji Translation.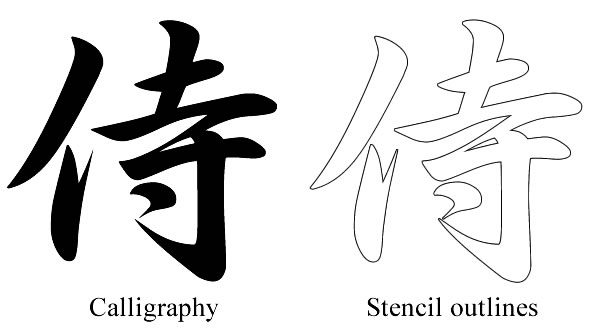 We translate your word or phrase into authentic Japanese kanji symbols which says exactly what you want to say!
---

Takanori Tomita, a native speaker of Japanese and a Japanese writing translator, will translate your English word into the CORRECT Japanese Kanji alphabet using a variety of Japanese calligraphy styles and stencil outline!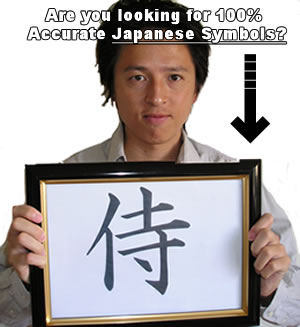 You will receive your Japanese kanji symbols within 48 hours. SPEED and ACCURACY is guaranteed!
This is the 100% Accurate Kanji Translation you have been looking for!
Benefits of 100% Accurate Kanji translation
We'll save the time and effort of learning how to write Kanji symbols.


A professional Japanese kanji translator, Takanori Tomita, will prevent you from unknowingly tattooing the WRONG Japanese Kanji Symbols.


You will receive your Japanese kanji symbols designed with 3 different Calligraphy styles and stencil outlines.


Your design will be unique, beautiful and 100% accurate Japanese kanji symbols!
You will receive the Japanese kanji symbols:
With the CORRECT Stroke Order, and meaning


Vertically and Horizontally created images,


Within 48 hours of confirmed payment.


100% guaranteed or you get your money back.


We can also re-create your Japanese kanji symbols if you are not happy with them.
Here's our customer's photo and testimonials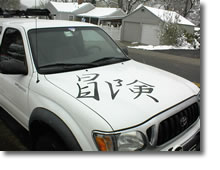 I did receive it, thanks.
Thanks again for the design, I had a graphic artist here in Denver apply it to my truck.
Four pictures are attached.
Feel free to use them on your web site and marketing materials, and I'll definitely recommend your services in the future!
-cds
---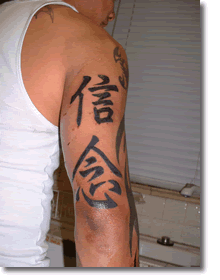 I've received your symbols and thank you for making' them for me.
I used them for a tattoo on my arm, i'm sending you the pictures of the tattoos.
They were taking' the next day that I received the symbols.
Hope is on the inner part of my arm, and Faith is on the triceps.
Thanks again for helping' me out with my tattoo,
Carlo
---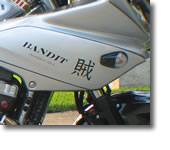 "I found Takanori Tomita's web-site when I was searching the Internet trying to find an English to Japanese Kanji symbol translation service.
I was very happy with the level of service and quality of the JPEG symbols I received delivered as promised.
I highly recommend Mr. Tomita's translation service."
Thanks again, Takanori.
Sincerely,
Dave Heideman
St. Petersburg, FL
---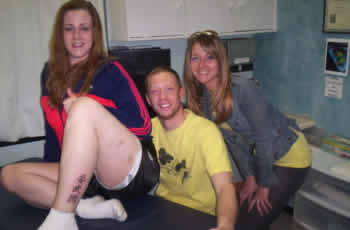 Hi Takanori
i finally used my translation for my tattoo and it is awesome.
i am glad that i researched this and found your web site before i decided to go through with the tattoo, who knows what i would of ended up with. here are a few pictures of the tattoo which i got on my lower leg.
Lindsey
---
From Takanori Tomita
Hello Friend,
If you are looking for Japanese kanji symbols, you have come to the right place!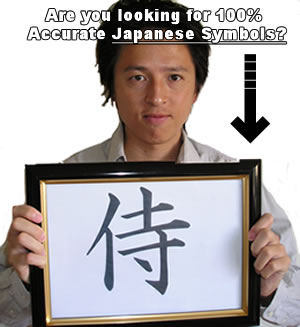 Hi, my name is Takanori Tomita.
I am a Japanese translator who specialize in translating and designing Japanese Kanji symbols.
Over the past five years, thousands have visited our web site and asked us for our 100% Accurate Japanese Kanji translation for their Logo, T-shirt or tattoo design, in order to avoid using the WRONG Japanese Kanji Symbols.
Do you know why?
Please keep reading, you will see...
Do you know about kanji?
Kanji are ideographic characters.
Each Kanji character represents an entire object, idea, or meaning in a visually expressive way.
For example, the following Japanese character is the Kanji symbol for "human".
This character represents two people leaning against each other.
One is on the right hand side; and the other is on the left.
This symbolizes that human being is living by supporting each other.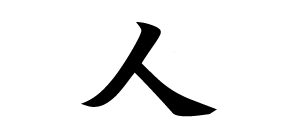 Kanji can be written in a variety of calligraphic styles
Some are unique, artistic and beautiful like the following.
That's why so many people choose Kanji symbols for their Logo, T-shirt or tattoo design!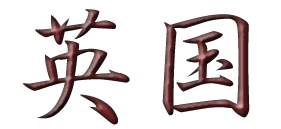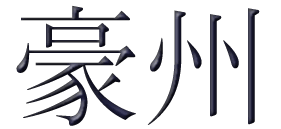 Three different Japanese alphabets
Words in Japanese can be written three different ways.
Kanji characters can be used to represent an entire object, idea or meaning.
Words and names can also be spelled out using one of two different Japanese alphabets (hiragana and Katakana).
The choice depends on what you want to say, and what the writing will be used for.
Sometimes it is best to use a combination of all three methods.
Be Very Careful With Kanji Symbols!
Over the past several years, Japanese kanji symbols have made their way into the Western mind, onto the body, and just about everywhere else.
Just as Japanese people love to use English symbols and phrases on T-shirt, logo or tattoo design, westerners have started using Japanese Kanji Symbols for their own design needs.
However, some people mistakenly end up using the WRONG Kanji symbols.
Many kanji characters are similar to each other, and some can have different meanings depending on context.
Here is a sad story about a man who used the WRONG Japanese kanji symbols for his tattoo design.
About a year ago, one of my Japanese friend told me a sad story about an American she met at a party.
During their conversation, he told her that he came to Japan because he had been interested in traditional Japanese culture for a long time.
He also showed her the Japanese symbols tattooed on his arm.
He said the tattoo says "Wind God" in Japanese.
But, she told him the symbols actually mean "Lady" in Japanese, not "Wind God".
He thought he had the CORRECT Japanese symbols, but he did not.
Japanese words for "Wind God" is "Fujin". The symbols he should have used were:


[Wind God]
But, the actual words he had tattooed on his arm were:

[Lady]
This means "Lady", but is also pronounced"Fujin".
Apparently, he had used one of the FREE Japanese translation service on the Internet, and typed the word "Fujin".
The kanji symbols for "lady" came up.
Obviously he did not understand the true meaning of the Kanji symbols.
As in this case, there are many possible reasons why some people end up using the WRONG Japanese writing!
Two different Japanese words may sound alike, but have totally different kanji symbols.


There are many different ways to write Japanese Kanji symbols, depends on your meaning.


Kanji symbols are often written in the incorrect position


Kanji symbols are often printed upside down


Stroke order is ignored when it is written


and So on..
Are you going to be frustrated and disappointed after discovering that you used the WRONG Kanji symbols for your T-shirt, logo or your permanent tattoo?
Is that what you are looking for?
Of course NOT!!
If you want to get CORRECT Japanese kanji symbols, here is the solution you need!!
100% Accurate Japanese Kanji Translation
For those who needing help translating English into CORRECT Japanese KANJI symbols for your logos, T-shirt or tattoo designs.
Here is what we will do for you!!

We will understand the true meaning of your words or phrase, and will translate it into correct Kanji symbols


We will make sure each kanji symbol is in the correct order and position when written horizontally and vertically.


We will make sure the elements of your kanji symbols are not reversed from right to left or placed upside down.


We will write your Japanese symbols in the correct stroke order


We will translate up to 3 individual words, or a complete phrase.


We will provide your kanji symbols in 3 different calligraphic styles. You can select these from 30 different styles, each representing a different mood from traditional to modern.


We will tell you how to pronounce each Japanese Kanji symbol in English.


We will design your Japanese kanji symbols with vertical and horizontal alignment.


If the number of kanji symbols in your translation is too long for your intended use, we will try to re-create a new design using fewer symbols with the same meaning.

Frequently Asked Questions
How many words or can you can translate a phrase?
A maximum of 3 words (e.g. "Love", "Warrior", "Happiness")
or
a phrase (e.g. "Seize the day")
Image format, and the size of your Japanese symbols
You will receive images written in the Word format and saved as PDF file.


Fully Customized Japanese Kanji symbols will be sent to your email within 48 hours of confirmed payment.
Get Japanese Calligraphy and Stencil Outline!
Get Japanese calligraphy and stencil outlines!
We will create your kanji symbols into a unique, beautiful and cool tattoo design, using a variety of Calligraphic styles. We will also provide stencil outline.
NOTE: For those who plan to use kanji for tattoo design
Your tattoo artist will use stencil outlines to trace the artwork onto your body. Because of the size and crispness of the characters. Some tattoo artists may charge you $30 or more to do this unless they have stencil outlines to work with.
So, print out the stencils and take them to your tattoo artist who can scale the design to the desired size.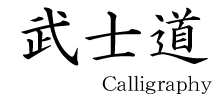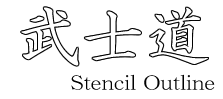 Get both vertical and horizontal Kanji symbols.
For your convenience, your will receive both vertical and horizontal images.
Although we traditionally write Japanese symbols vertically, there is nothing wrong with writing them horizontally as well.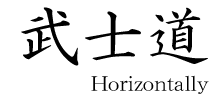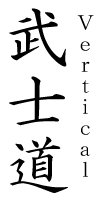 Choose 3 Fonts to create a Unique Kanji symbols!
There are 30 Japanese calligraphy styles to choose from!
Choose 3 Kanji styles for your Japanese Kanji Translation!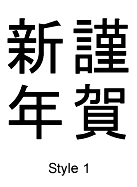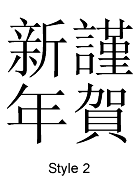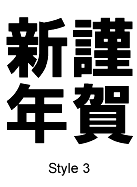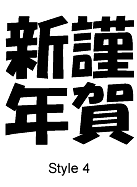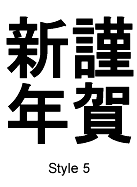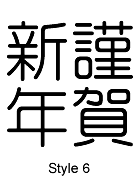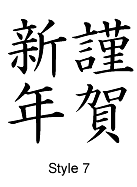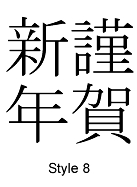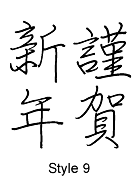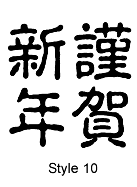 and more.
You can see other scripts on the order form here.
How will you receive the Japanese symbols?
Images will be delivered to you by email within 48 hours:
Each design will be attached to the email messages individually like the following

What do You need to do for ordering?
2 SIMPLE AND EASY STEPS!!

Fill in an order form.
- Choose 3 calligraphy font styles from the list of 30 styles.
- Tell us a maximum of 3 words or the phrase to be translated
- and the reason why you select these words.



Again, Listen to our happy customers who have used our Japanese Kanji Translation service!

Takanori,
Thank you so much for all your hard work -- the symbols are just what I was looking for. Your attention to detail, perseverance and exceedingly polite customer service in supplying me with exactly the right file format are unparalleled. You are a true professional in every sense of the word.
Terri Porter
Creative Ink
Butte, MT USA
Dear Takanori Tomita-san,
Thank you very much for your fast response to my request of Kanji translation and thank you very very much for your excellent work and presentation with stencils for tattoo's included, excellent!!
The translation for "Tenjo Tengae Uiga Dokuson" turned out excellent, great work thanks Takanori!!
I have received everything and I am very satisfied with the results and I look forward to doing business with you again soon sometime and of course I will recommend you to any of my friends needing your work!!Thank you!
Hontoni arigatou gozaimashita, yoroshiku onegaishimasu!
Peter White
You are WONDERFUL!
Yes, my husband to be (next week Aug 28) and I will be getting tattoos. And what a great wedding present this will be.
He has been searching for this. You have so made my wedding so incredibly special and I thank you! I am hoping to get this done after we marry, as in days! Again.. I so thank you!
Linda Stanley
Dear Takanori-san,
Thank you so much!!!!!
i just received my pictures and they are perfect!!!! they are exactly what i was looking for....and now thanks to you my friend, i know that they are authentic & correct. I am having these symbols(my daughters name) tattooed, i will gladly send you the pictures when i have the work done.
Again thank you so much!!!! count on hearing from me again my friend, i will tell everyone i know about this awesome service you provide....oh, the address you have on file is correct for mailing, i look forward to the book.
I came across you services through a search engine, and did a lot of research and came to the conclusion that you and your web site was the way to go!!!!
I was hesitant at first, but having your picture on your web site REALLY HELPS! (makes me feel im not just sending my money off into la la land) and the testimonials i read were the deciding factor in my decision...all those satisfied people cannot be wrong.
I definitely will be using your service again for other personal projects, but i also will praise and recommend you to everyone interested.
My tattoo artist was excited when i gave him all this info, as he says he gets a lot of requests for Japanese kanji symbols but does not have a resource for correct symbols, so he has to turn away customers. well....no longer because we found you!!!!!
Thank you again Takanori, i look forward to speaking with you again soon,
Best Regards,
Daniel Anderson
Dear Takanori Tomita,
I actually found your service while searching for a Kanji site that I could use for three tattoos.
I had read that many are "false" in that they do not truly mean what one is told they mean and so when I found your site, I was happy to read that you check your meanings carefully.
I found your site to be very easy to use and the designs were sent quickly.
Thank you again for all of the "bonuses" too:)
I will do my best to send you a photograph of the tattoo when it is finished.
I have chosen them to be placed upon my left arm in the left to right order "Faith, Clarity, Honor".
These are things I value highly in my own life - my other tattoos have the same importance to me.
Thank you greatly for your fine service! I shall recommend you to others and the tattoo artist as well!
William Gray

Hi
I wanted to thank for the translation of my fiance and my name translation.
They turned out beautiful he got them tattooed on each of his wrists.
We are getting married in two weeks and that was his wedding present to me its awesome.
After the wedding he needs to get them touched up and than I will send pictures Thank you again so much for the translations.
Jered and Jackalyn
Dear Takanori.
I was very pleased to receive my symbols.
I work in a tattoo and piercing parlor and the artists are very impressed with the quality of the translation I have been searching for long time for the proper translation of my phrase and I stumbled across your site, to me it was money well spent.
I am going to have the third style choice that consists of five symbols and reads :ra ku ja na i:the outline will be very helpful as we are going to use a no hard line style of tattooing to make it look like a brush stroke on the skin.
We are going to it some time this coming week.
I would be honored to have my tattoo posted on your website.
We are also going to post on our own web site (www.davidscounterculture.com)
it will be under MATTS portfolio and my portfolio, by the way I use my middle name in every day conversation winch is "AL" so if you by chance pull up our site you'll find me under the retail part as AL.
So again thank you for the proper translation and as soon as I have the tattoo finished you will be the first ones to receive the photos.
You will be hearing from me very soon.

William

My 100% Bulletproof 30-Day
No Questions Asked Guaranteed

I want everyone who order this Japanese translation to get the CORRECT Japanese symbols matching your intended meaning exactly.
We GUARANTEED your SATISFACTION.
If you are dissatisfied with your Japanese translation, simply return it within 30 days for prompt 100% refund, or I will re-create your words and create new calligraphy for you free of charge.
No hassles and no questions asked!
3 special bonuses
Wait! you will receive these 3 Super Bonuses if you order this kanji translation before midnight
Yours To Keep, No Matter WHAT!
Well, my friend, after reading all of these testimonials, your decision should be an easy one.
You may be excited about receiving your customized Japanese symbol images.
But, guess what.
That's not only thins you will receive.
I think you're going to be astonished by the 3 SUPER BONUSE I'm giving away FREE, for a limited time only.
Bonus #1
Find out how to pronounce your symbols in Japanese! (Valued at: $15)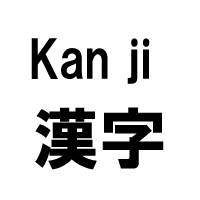 That's right.
Along with your fully customized kanji symbols, we will also tell you how to pronounce them in Japanese!
Bonus #2
You will receive the Ebook called "Kanji Dictionary"(Valued $30.00)


This is a collection of 30 popular Japanese kanji symbols based on the way of SAMURAI.
Bonus #3
Ask Takanori Tomita about your Japanese Symbols!(Valued $35.95)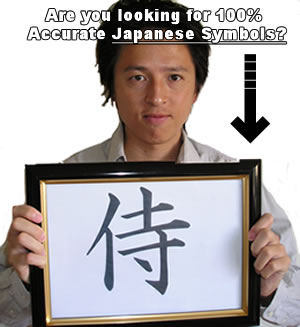 If you have any questions about your Japanese Symbols translated by Takanori Tomita, you can ask him at any time.
He understands that you want to make sure that you have exactly the CORRECT Japanese symbols for your intended meaning.
Many words in English can be translated in several different kanji symbols.
Each of these may have a slightly different meaning in Japanese.
He will try to select the best symbols for what you want to say!
And if you have any questions, you can ask him!
How much does it cost?
100% ACCURATE Kanji Translation service usually cost as much as $80.95 - but right now, as part of a special marketing test, we have dropped the price to an unbelievably low US$49.95.
Plus you will receive 3 FREE SPECIAL BONOUS.
Get this custom translation and design Service with 3 special bonus for just US$49.95

I cannot say how long this test will last, so jump on this offer right away.
If you think US$49.95 is expensive, then think again.
You can spend years and years learning HOW TO WRITE Japanese symbols, and you still won't have the full understanding of Japanese symbols that this Kanji Translation gives you within 48 hours!!
Click the order button below and you'll soon feel the satisfaction that so many people are raving about.

P. S: Don't forget - you will receive 100% Accurate Japanese Kanji symbols that says exactly what you want them to say.
So, you can avoid using WRONG Japanese kanji symbols!
Unlike other Japanese symbol translation, we don't use the machine translation.
Be very careful especially with the online Japanese translation service without the actual photo of the Japanese translator.
Some people use them and apparently got totally WRONG symbols!!
With our kanji translation, a professional Japanese translator, Takanori Tomita, will translate your word or phrase into Japanese kanji symbols.
If you are not happy with the Japanese symbols he has created, he can re-create it until you satisfy!
P.P.S: Remember, you will receive these 3 Super Bonuses if you order this kanji translation before midnight .
P.P.PS: You'll receive them by email within 48 hours, plus 3 Additional Special Bonus, too!
Our Japanese Kanji Translation is FAST and ACCURATE, and comes with a 30 days Money Guarantee!
If you are not happy with your Japanese symbols, we will refund your money!