Takanori Tomita - Japanese Symbol Translator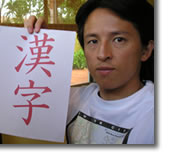 Japanese symol translation is founded by Takanori Tomita, a professional Japanese Translator who is specializing in Japanese Symbols.
Takanori was born in Japan, and then moved to Australia for studying English when he was 15 years old.
When he was in Australia, he helped a lot of his friends translating English characters into 100% Accurate Japanese symbols.
Since then, he has decided to help other Western people to avoid using Wrong Japanese Symbols. So, after he graduated University and got both Bachelor and Master degree in Australia, he came back to Japan to provide 100% Accurate Japanese Symbols Translation.

Takanori Tomita's Books

Kanji Dictionary - the way of Samurai
・ Paperback: 45 pages
・ Binding: Saddle-Stitch
・ Publisher: Takanori Tomita (September 2004)
・ ISBN: 0646439561
Collection of 30 different Japanese symbols (KANJI) [Kanji Dictionary]