Business Name

Takanori Tomita's Japanese Symbol translation

A.B.N
(Business No.)

Registered in Japan

Bank

Tokyo Mitsubishi UFJ (JAPAN)
Paypal (USA)

Postal Address

D-field 101: 4-26-27 Fuda, Chofu City, Tokyo, Japan

Phone Number

050-5532-7049 (Japan)

Email Address

Click here

What is DSFY?

A registered business name DSFY.COM is based in Tokyo in Japan, specializing in Japanese Symbol Translation.

Patnered with:

Payment Method

Order now at PayPal or 2checkout.com which accepts
Master Card, Visa, Discover, AMEX, Diners or eCheck.
We never share your private data with outside parties.

Click here for more information about our store, safety features, and shopping cart.
Takanori Tomita, a professional Japanese translator who is specializing in Japanese kanji, katakana and hiragana translation.
Takanori Tomita - Japanese Symbol Translator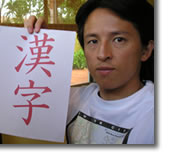 Takanori Tomita is a professional Japanese Translator who is specializing in Japanese kanji, hiragana and katakana writing.
Takanori was born in Japan, and then moved to Australia for studying English when he was 15 years old.
When he was in Australia, he helped a lot of his friends translating English characters into 100% Accurate Japanese writing.
Since then, he has decided to help other Western people to avoid using Wrong Japanese writing.
So, after he graduated University and got both Bachelor and Master degree in Australia, he came back to Japan to provide 100% Accurate Japanese Symbols Translation.
Takanori Tomita's Books

Kanji Dictionary - the way of Samurai
・ Paperback: 45 pages
・ Binding: Saddle-Stitch
・ Publisher: Takanori Tomita (September 2004)
・ ISBN: 0646439561