English to Japanese Translation with all the 3 Japanese scripts - Kanji, Katakana and Hiragana.
Recieve the customized Japanese symbol images within 48 hours of confirmed payment by email.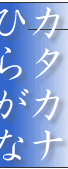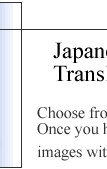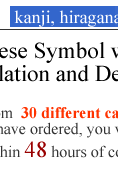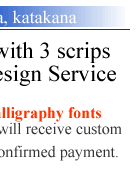 We translate a word into Japanese symbols with the following 3 Japanese scripts - KANJI, HIRAHGANA and KATAKANA, and create custom design images at one low price, delivered within 48 hours of confirmed payment, and 100% guaranteed.
<< Japanese Translation with the following 3 scripts>>
If you're looking for the Japanese symbols with all the 3 Japanese scripts, you've come to the right place!



This is the Japanese translation with the image design and creation that you have been looking for.
http://www.artskull.com
Copyright 2004 Art Skull

Customer Comments -

testimonials

Takanori -

I really appreciate your taking the time to contact me regarding your work. At the moment I'm not getting a tattoo but plan on using your translation to help promote my freelance illustration & graphic design business.
I've attached a possible promo postcard design using your work. If you have the time to send me your comments on this design I'd appreciate it. And, I will definitely send you a hi-res image and hard copy once thispromo card is complete.
I'm also in the process of updating my site and will be sure add your link Thanks again and looking forward to reading your comments on the promo card...

Chris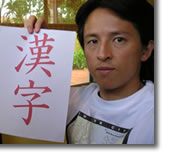 Dear Friend,
Hi, my name is Takanori Tomita.
When you're considering to use Japanese symbols for your design needs, it is important that those Japanese characters represent accurate meaning and match exactly what you want to tell to others.
Especially If you are going to use them for your Tattoo Design, you'd better make sure that tattoo parlor choose the right Japanese symbols.
On the web, you might find the FREE Japanese symbols or you can use the FREE machine Japanese Translation to convert an English word into Japanese.
However, because of the complexity of Japanese language, there are, in fact, many ways to write a word in Japanese.
For example, a word, "Faith" can be expressed in Japanese about 5 ~ 10 different ways, and changes by the way of expression or what you really want to say.

So, unless you understand all of these complexity and correctly tell the true meaning of the word to a translator, it is quite hard to get the RIGHT JAPANESE SYMBOLS.
You also need to know the difference between the way of writing Japanese, because we have 3 Japanese Scripts.
That's right.
It's not only Kanji we use for writing Japanese.
Although KANJI Characters are the most popular Scripts for Westerners, we can also express a word or name in other artistic Japanese scripts called, Hiragana and Katakana.
So, the question is how can you be sure that chosen Japanese Symbols are accurate and you have got the right meaning?
That's why I offer this SPECIAL Japanese translation with 3 scripts for those who need a help deciphering English into correct Japanese symbols.
With our Japanese Translation, We ask you a word to be translated, and the reason why you choose the word. So that we can make sure that you will get the Japanese symbols with right meaning, plus with all the 3 scripts!
---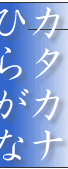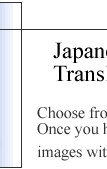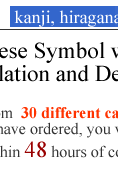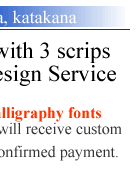 We translate your word into Japanese symbols in 3 different scripts - KANJI, HIRAHGANA and KATAKANA and create custom design at one low price, delivered within 48 hours, and 100% guaranteed.

What you will get, and how many words?


Maximum of

2 words

are going to be translated.



You will get

3 different format images: 72 DPI Gif for web, JPG and TIFF for printing


The size of image is Large and you can check the sample from here.
You get both Calligraphy and Stencil Outline images!
For those who are going to use symbols for Tattoo Design
What the tattoo artist will use to trace the artwork onto your body is stencil outline symbols. Because the characters provided are large, clear and crisp. If you ask some tattoo artists, they may charge you $30 or more.
So, simply print them out and bring to your tattoo artist who will scale the design to the size that you want.
You get both vertical and horizontal KANJI images.
For your convenience, your will receive both Vertical and Horizontal images.
Although we traditionally write Japanese symbols vertically, there is nothing wrong to write them horizontally as well.
Choose 2 fonts to create your Japanese symbols!
There are 30 fonts to choose from. << You will see them in the order form!

With the Japanese symbol Translation, you choose 2 fonts!
For example, you can choose the following 2 fonts.
How do I receive the Japanese symbols?
Images are going to be delivered to you by email within 48 hours:
You will receive each Kanji symbols individually as an attachment in the email message.
For example, if you order a word "Courage" for the Japanese Kanji Translation, firstly you will receive 12 images with whatever the Calligraphy font is selected (e.g. style 7) like this:

As a total, you will receive 36 Japanese symbols for just 1 word!!
Because you select 3 Calligraphy fonts, and images are created with 3 different file format for your convenient . . plus, you will receive stencil outline for each symbol.
Can I use images for anything?
Yes, of course.
Although many of my customers use images for Tattoo Design, others use images for different purposes.
For example, you can use it for your tattoo design, wall hangings, design for uniform, logo any others.

What do I need to do for ordering?
SIMPLE AND EASY 2 STEPS!!

Fill in a order form.
- Choose 2 calligraphy font styles from the 30 list.
- Tell us maximum of 2 words to be translated
- and the reason why you select these words.

---

Here are just a few of the hundreds of testimonials I've received.
READ OVER CUSTOMERS' TESTIMONIALS!!
Dear DSFY Team & Takanori Tomita,

That great news.
That says exactly what I wanted. It says exactly what my wife means to me.

I will be going to my tattoo artist today to see when they can do it.

I wish to thank you all for helping me.
There are too many people claming to translate but the result is not good or helpful.

Your translation web site is good and all communication is nice and friendly.

I wish you all the DSFY Team the best for the future and will recommend you to any one.

Thanks again,
Eddie
Takanori,
Thank you so much for all your hard work -- the symbols are just what I was looking for. Your attention to detail, perserverance and exceedingly polite customer service in supplying me with exactly the right file format are unparalleled. You are a true professional in every sense of the word.
Terri Porter
Creative Ink
Butte, MT USA
Good morning Takanori Tomita. Thank you for your quick response. The symbols you sent to me are beautiful. I want to use them for a tattoo and will gladly send you a picture once it has been done.
Alicia
Takanori,
I did use the images for a tattoo, it came out really nice. I need to let it "heal" for another week or so before I can take a good picture. I will email you a picture next week. Thanks again.
By the way, I gave your contact info to my tattoo artist, he was very impressed.
Doug


Here is some of Japanese symbol design used for our customers.
You can see more of these from here - Picture of logo, jewelry and tattoo design.
I really appreciate all the help you have given me. If I know anyone else who needs Kanji Interpretations I will definitely recommend them to your business. I have attached the final design for the Tattoo I am getting. I won't be able to get it done for a month or so, but I will send pictures of the tattoo (on me) when I get it. I am sure this is the correct way to say
Thank You Very Much so....

Darren Schaat
Takanori,

Attached are a couple of photos of the Tattoo that I had done with the translation that you did for me...

TENACITY
DEDICATION
DESIRE

Doug Kellin
My 100% Bulletproof 30-Day
"No Questions Asked Guaranteed"

I want everyone who order this Japanese translation to get the RIGHT Japanese symbols and match exactly your meaning of the word.
We can GUARANTEED your SATISFACTION.
If after 30 days passed -- you don't agree that the Japanese symbols I have translated and created with Japanese Calligraphy fonts was worth for you, simply return it to me for a a prompt 100% return, or I will re-create images for you.

No hassles and No questions asked!
---
You receive these 2 Super Bonus for a limited time!
"Yours To Keep, No Matter WHAT You say!"
Well, my friend, after reading all of these testimonials, the decision should be an easy one, and you may be excited about the your customized Japanese symbol images that you'll receive. But, guess what. It is not only that.
I think you're going to be astonished by what I'm about to do next.
Because I want to you to give you more choice for the characters you can choose for your design, I've agreed to give away 2 SUPER BONUSE for a limited time only.
Bonus #1

Find out how to pronounce your symbols in Japanese!
(Valued at: $15)

That's right.
We do the translation and also tell you how to PRONOUNCE the symbols in Japanese.
So, you get the Japanese symbols that are fully customized for you and you also find out how to pronounce in Japanese!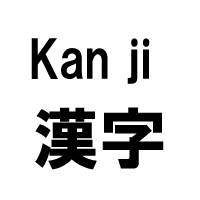 Bonus #2

You will receive the Ebook called "Kanji Dictionary"
(Valued $25.95)

Collection of 30 different Japanese symbols (KANJI) [Kanji Dictionary] which are based on the way of SAMURAI.
As a FREE bonus, you will also receive this Ebook as well.
---
The Japanese Symbol Translation is available for as much as $80.00 - but right now, as part of a special marketing test, we have dropped the price to an unbelievably low only for US$60.00
That's right. you can get this custom translation and Design Service
for ONLY US$60.00
I cannot say how long this test will last, so jump on this offer right away.
If you think US$60.00 is expensive, then think again.
You can spend years and years learning HOW TO WRITE Japanese symbols, and you still won't have the full understanding of Japanese symbols that this Japanese Translation gives you within 48 hours!!
Click the order button below and you'll soon feel the satisfaction that so many people are raving about.